Advisors > ESOP Committees
Tweet
ESOP Committees, Consultants & Advisors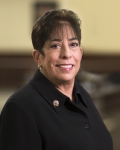 Merri Ash - Internal Trustee
ESOP Committees in Phoenix, AZ
Merri has 45 years of experience in Employee Benefits, including Senior Vice President at TI-Trust; Senior Trust Officer at SunTrust; EB consultant with Wyatt Company; benefits manager at Jonathan Corp, an ESOP company; and senior benefits consultant and Team Leader with the NADA. Merri has be...
ESOP Marketplace connects you with local ESOP Committees
In ESOP Governance, the board of directors' fiduciary authority also appoints or hires of all other parties to perform services or functions for the plan. One of the ususal delegation of rights and responsibilities by the board is to form an ESOP Committee.

An ESOP Committee (or Administrative Committee, or simply Committee) is usually responsible for the administrative functions have been delegated by the board of directors, and therefore is a fiduciary. The Committee usually has some discretion with respect to plan operation, and, therefore, is generally a fiduciary with respect to certain aspects of the plan, but the board of directors usually retains the right to make and amend policy to itself.
There are other functions the ESOP Committee can provide, including ESOP Communications, developing an ESOP Ownership Culture, and managing the annual Shareholder's meeting. Our ESOP Committee Advisors can help form your ESOP Committee, guide them through their charter development, and assist them with communication best practices to upgrade the "Ownership Culture."