Advisors > ESOP Trustees > Internal Trustee
Merri Ash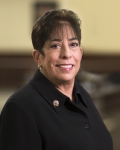 Name:
Merri Ash
Company:
Internal Trustee
Title:
Founder
Email:
m.ash.esop2@gmail.com
p:
610-308-1886
f:
Phoenix, AZ 85016
View on a map


Message this advisor
Send this advisor a private message (esopmarketplace.com email).

Add this advisor
Add this advisor to your Process Map
We currently have no blog posts for Merri Ash.
Merri has over 40 years experience in Employee Benefits services. Her past experience includes work as a Senior Trust Officer with SunTrust Bank, Employee Benefits Consultant with Wyatt Company, Benefits Manager with Jonathon Corporation, an ESOP company, and Team Leader and Senior Benefits Consultant with the National Automobile Dealers Association. She is a past chairperson for the Administrative Advisory Committee of The ESOP Association, current Board of Governors member for The ESOP Association, and current Board of Trustees member for The Employee Ownership Foundation. Merri recently retired from TI-TRUST, having served as Senior VP since 2002.
Education
Expertise
Buying and selling of plan assets
Ensuring that the ESOP loan terms are reasonable and coordinating the scheduled debt service payments
Hiring the plan advisors and evaluating their opinions
Voting and/or accepting direction to vote shares of company stock for shareholder meetings
Monitoring the ESOP's compliance with the plan and loan documents, trusts, and all applicable laws and regulations
Evaluating ESOP transactions independently
Accepting employer contributions and collecting income on plan assets
Completing participant distributions and providing all the required tax reporting documents to retirees and terminated employees
Providing statements to all necessary parties in a timely matter
We have not uploaded any case studies yet. Please check back soon.
We have not uploaded any articles yet. Please check back soon.
There are currently no ratings.
Views this week: 8
Views this year: 31
Views: 1,179