Advisors > Lawyers > ESOP Lawyers
Sean Sullivan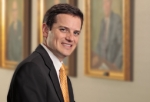 Name:
Sean Sullivan
Company:
Waller Lansden Dortch & Davis LLP
Title:
Partner
Email:
sean.sullivan@wallerlaw.com
p:
615-850-8584
f:
511 Union St
#2700
Nashville, TN 37219
View on a map


Message this advisor
Send this advisor a private message (esopmarketplace.com email).

Add this advisor
Add this advisor to your Process Map
We currently have no blog posts for Sean Sullivan.
From small doctors' groups to multi-national, publicly traded businesses, a diverse group of companies utilize Sean's services. In all cases, Sean is drawn to the personal, non-abstract nature of his work. He does not "give advice from an ivory tower," and appreciates that real people are affected by the decisions he is helping clients make. Sean embraces the challenge of delivering timely, practical, direct counsel in a field that is not always an exact science
Education
J.D., cum laude, University of Mississippi, 1997
LL.M., New York University, Taxation, 1998
B.A., summa cum laude, University of Mississippi, 1994
Expertise
Sean offers his clients the following services and advice
Equity-based compensation plans, such as stock options, restricted stock, and phantom stock plans
Welfare and fringe benefit plans
ERISA disputes and negotiations
Tax-qualified retirement plans, including profit sharing, 401(k), cash balance, and traditional pension plans
Specialized employee benefit arrangements, such as employee stock ownership plans (ESOPs) and voluntary employees' beneficiary associations (VEBAs)
We have not uploaded any case studies yet. Please check back soon.
We have not uploaded any articles yet. Please check back soon.
There are currently no ratings.
Views this week: 15
Views this year: 847
Views: 3,129