Advisors > ESOP Accounting & ESOP Accountants
Michael Krucker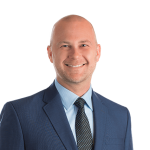 Name:
Michael Krucker
Company:
Plante Moran
Title:
Partner
Email:
Michael.Krucker@plantemoran.com
p:
313-496-8551
f:
1098 Woodward Ave
Detroit, MI 48226
View on a map


Message this advisor
Send this advisor a private message (esopmarketplace.com email).

Add this advisor
Add this advisor to your Process Map
We currently have no blog posts for Michael Krucker.
Michael is leader of our employee benefits consulting group, advising clients on designing, implementing, and operating employee benefit programs to stay competitive in the market and increase employee engagement. Mr. Krucker specializes in qualified retirement plans, including ESOPs. Additionally, Michael leads the firm's executive compensation practice. He works with clients in all industries, most of them are in manufacturing and distribution, professional services, not-for-profit, technology, healthcare, and government.
Education
Michael is often asked to speak at seminars and present on webinars on various employee benefits topics. As a licensed attorney and a member of the Michigan State Bar, Mr. Krucker received his B.A. in political science from Michigan State University, a certificate in French studies from Université Stendhal Grenoble, and my J.D. from Wayne State University Law School.
Expertise
Since joining the firm in 2008, I've become an expert in the area of human capital, including employee benefits, human resources, and payroll. I love that the field is always changing. I enjoy helping clients shape the benefits programs that will help them remain competitive into the future. In fact, I've stayed with this career because I know that what I do makes a difference to my clients and in the lives of my clients' employees.
We have not uploaded any case studies yet. Please check back soon.
We have not uploaded any articles yet. Please check back soon.
There are currently no ratings.
Views this week: 15
Views this year: 491
Views: 1,994