Advisors > Lawyers > ESOP Lawyers
James Moser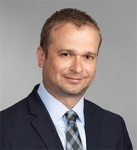 Name:
James Moser
Company:
ESOPPlus: Schatz Brown Glassman LLP
Title:
Partner
Email:
jmoser@esopplus.com
p:
888-840-6830; 7
c:
435-232-3894
f:
5915 S Regal St
Suite 214
Spokane, WA 99223
View on a map


Message this advisor
Send this advisor a private message (esopmarketplace.com email).

Add this advisor
Add this advisor to your Process Map
We currently have no blog posts for James Moser.
James' practice involves counseling clients with the design, implementation and operation of qualified defined contribution plans, with an emphasis on Employee Stock Ownership Plans ("ESOPs") James previously served as an ERISA Enforcement Advisor and the National ESOP Coordinator for the Department of Labor's Employee Benefits Security Administration where he identified and corrected violations of ERISA in connection with ESOPs, including stock drops, improper valuations, prohibited loans, discrimination issues, voting rights, diversification and refinancing.
Education
LL.M., Taxation & Employee Benefits, Georgetown University Law Center
J.D., Valparaiso University School of Law
B.S., Business and Human Resource Management, Utah State University
Expertise
James's ESOP experience includes company, trustee and shareholder representation in numerous ESOP transactions, including leveraged buy-outs, corporate stock redemptions, shareholder succession and corporate reorganizations.
James regularly advises clients on deferred compensation arrangements, including stock appreciation rights (SARs), phantom stock, qualified and non-qualified stock options, and compliance with Internal Revenue Code Section 409A
We have not uploaded any case studies yet. Please check back soon.
We have not uploaded any articles yet. Please check back soon.
There are currently no ratings.
Views this week: 9
Views this year: 31
Views: 162