Advisors > Lawyers > ESOP Lawyers
James Bristol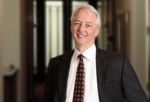 Name:
James Bristol
Company:
Waller Lansden Dortch & Davis LLP
Title:
Partner
Email:
james.bristol@wallerlaw.com
p:
615-850-8922
f:
1901 6th Ave N
#1400
Birmingham, AL 35203
View on a map


Message this advisor
Send this advisor a private message (esopmarketplace.com email).

Add this advisor
Add this advisor to your Process Map
We currently have no blog posts for James Bristol.
James Bristol advises clients, From startup ventures to publicly traded companies, on all types of compensation and benefits. Well-versed in federal and state tax rules, ERISA, SEC disclosures, and the myriad regulations that surround benefits and compensation packages, James Bristol embraces the challenge of finding solutions that meet the client's goals. Businesses who rely on their law firm for a variety of corporate and litigation matters will appreciate that James Bristol adds another layer of service
Education
J.D., cum laude, Pepperdine University, 1987

Note and Comment Editor - Pepperdine Law Review

B.A., cum laude, Columbia Christian College, 1980
Expertise
Traditional benefit plans and equity compensation
Compensation packages for incoming executives and directors
Deferred compensation agreements, including 409A, SERPs, rabbi trusts and funding
Transitioning compensation programs following mergers or acquisitions
Severance packages for departing executives and directors
Advises business owners and trustees in ESOP transactions
We have not uploaded any case studies yet. Please check back soon.
We have not uploaded any articles yet. Please check back soon.
There are currently no ratings.
Views this week: 12
Views this year: 789
Views: 3,103