Advisors > ESOP Feasibility Study
Peter Abrahamson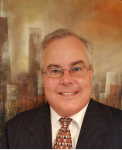 Name:
Peter Abrahamson
Company:
ESOP Structuring Specialists, Inc
Title:
Managing Director
Email:
Peter@esopstructuring.com
p:
847-387-3722
f:
847-387-3722
24156 N Coventry Lane
Lake Barrington, IL 60010
View on a map


Message this advisor
Send this advisor a private message (esopmarketplace.com email).

Add this advisor
Add this advisor to your Process Map
We currently have no blog posts for Peter Abrahamson.
Before creating es2, Peter was Managing Director and Technical Director at Verit Advisors, LLC. While there, Peter performed the technical aspects of ESOP financial modeling, valuation, tax, accounting and human capital topics for Verit clients. Prior to Verit, Peter managed Deloitte's valuation consulting practice where he was Deloitte's national ESOP valuation expert. Peter typically served Deloitte's ESOP clients as part of cross functional teams including audit, tax and human capital professionals.
Prior to Deloitte, Mr. Abrahamson was Vice President and ESOP expert for the investment banking group of EVEREN Securities (now part of Wells Fargo Securities). EVEREN was formed as an employee ESOP buyout structure in which the employees collectively invested $30 million in ESOP stock through a 401(k) plan equity raise. At EVEREN, Peter helped raise more than $1.9 billion in growth capital in more than 30 common equity and preferred equity transactions for EVEREN clients. Additionally, he developed expertise in structuring fixed income, convertible, preferred, equity and warrant securities.
Education
Expertise
Peter has more than 20 years of investment banking and valuation experience, specializing in the valuation of business enterprises and individual securities, structuring and implementing ESOP transactions, and executing public and private market capital raises. Peter has deep, technical expertise with respect to ESOP transaction financial modeling, valuation, corporate finance, tax, accounting and human capital topics. He has analyzed, structured and implemented numerous, complex multi-investor transactions across numerous industries with particular expertise in management buyout and equity based structures which include 401(k) equity investments and/or purchased warrant equity investments.
We have not uploaded any case studies yet. Please check back soon.
We have not uploaded any articles yet. Please check back soon.
There are currently no ratings.
Views this week: 8
Views this year: 450
Views: 2,492