Advisors > ESOP Trustees > ESOP Independent Fiduciary
Michael New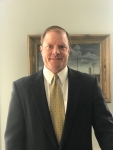 Name:
Michael New
Company:
Invictus Fiduciary Services, LLC
Title:
Trustee
Email:
mnew@invictusfiduciary.com
p:
901-260-1444
f:
1755 Kirby Pkwy
Suite 101
Memphis, TN 38120
View on a map


Message this advisor
Send this advisor a private message (esopmarketplace.com email).

Add this advisor
Add this advisor to your Process Map
We currently have no blog posts for Michael New.
Michael New has been involved in ESOP transactions for over 20 years. His background in business transactions started in 1998 at a Memphis law firm. His work caught the attention of Ken Lenoir of Evolve Bank and Trust in 2006. As Senior Trust Officer, Michael helped over 100 companies become ESOPs, or guide them through multiple stages of financing. In addition, his transactions sometimes involved the sale of an ESOP to a third party, such as a private equity firm. In 2017, Michael, Ken and several others formed Invictus Fiduciary Services LLC; to provide the same fiduciary services to the former ESOP customers of Evolve B&T.
Education
Juris Doctor, University of Memphis;
B.A. in Economics, Davidson College.
FINRA Series 65 license.
Tennessee Bar Association,
Expertise
Michael's ESOP fiduciary practice involves transactions for newly established ESOPs, multi-staged financing for already established ESOPs, and ESOP terminations where the transactions involve the sale of the company to a third party, such as private equity.
We have not uploaded any case studies yet. Please check back soon.
We have not uploaded any articles yet. Please check back soon.
There are currently no ratings.
Views this week: 17
Views this year: 1,064
Views: 1,064