Advisors > ESOP Financing > ESOP Banks
Martin Carmody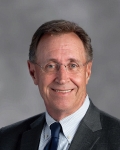 Name:
Martin Carmody
Company:
First American Bank
Title:
Senior Executive Vice President
Email:
mcarmody@firstambank.com
p:
847-586-2220
f:
847-586-2220
1650 Louis Avenue
Elk Grove Village, IL 60007
View on a map


Message this advisor
Send this advisor a private message (esopmarketplace.com email).

Add this advisor
Add this advisor to your Process Map
We currently have no blog posts for Martin Carmody.
Marty joined First American bank in 1980 as a management trainee and progressed through the bank serving a number of roles from President of First American Bank of DuPage County to his present role as Senior Executive Vice President, Commercial Lending. He is a member of the board of directors of both First American Bank Corp. and First American Bank, a member of the Executive loan committee and Chairman of the Senior loan committee. He also a member of the Trust and Trust Investment committees.
Marty also sits on the Board of Directors of Coilcraft, Inc. and is a long standing member of the ESOP Association's Finance committee.
Education
Manufacturer, Norwood, NJ: $12,000,000
First American Bank was able to refinance the existing ESOP debt and liquidate the seller notes from the original ESOP financing that h... Read the full case study >
Healthcare Services Provider, New York, NY: $20,000,000
The purpose of this transaction was to finance the purchase of the remaining 52% of the company stock from various shareholders of the compan... Read the full case study >
Manufacturer, Orlando, FL: $7,000,000
This $7,000,000 transaction allowed the ESOP to purchase of 51% of the company's stock from its two owners. The buyout was structured through a term n... Read the full case study >
We have not uploaded any articles yet. Please check back soon.
There are currently no ratings.
Views this week: 12
Views this year: 249
Views: 2,423