Advisors > Lawyers > ESOP Lawyers
Louis Joseph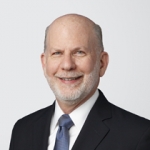 Name:
Louis Joseph
Company:
Holland & Knight LLP
Title:
Senior Counsel
Email:
louis.joseph@hklaw.com
p:
312-578-6585
f:
131 South Dearborn Street
30th Floor
Chicago, IL 60603
View on a map


Message this advisor
Send this advisor a private message (esopmarketplace.com email).

Add this advisor
Add this advisor to your Process Map
We currently have no blog posts for Louis Joseph.
Prior to joining Holland & Knight, Louis Joseph served as an associate solicitor for plan benefits security at the DOL – the agency's most senior ERISA counsel – then as a partner at a top accounting and consulting firm, where he led its HR-related tax, accounting and regulatory practice for the Central, Southwest and Western regions of the United States. Most recently, Louis Joseph was a senior counsel at a global law firm in Chicago.

Education
University of Michigan Law School, J.D., cum laude
Indiana University, B.A., with honors
Expertise
Mr. Joseph focuses his practice on employee stock ownership plans (ESOPs) and other employee benefit plans, including investments in employer securities, and also represents clients in regulatory matters before the IRS and the DOL. He has experience counseling companies on qualified retirement plans, welfare benefit plans, executive and equity compensation, and benefits issues.
We have not uploaded any case studies yet. Please check back soon.
We have not uploaded any articles yet. Please check back soon.
There are currently no ratings.
Views this week: 8
Views this year: 434
Views: 1,948