Advisors > Lawyers > ESOP Lawyers
Joan Cannon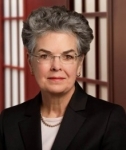 Name:
Joan Cannon
Company:
McGrath North
Title:
Partner
Email:
jcannon@mcgrathnorth.com
p:
402-633-1430
f:
1601 Dodge Street
Suite 3700
Omaha, NE 68102
View on a map


Message this advisor
Send this advisor a private message (esopmarketplace.com email).

Add this advisor
Add this advisor to your Process Map
We currently have no blog posts for Joan Cannon.
Joan has been practicing law since 1981 and is passionate about helping clients solve their employee benefits problems. She loves ERISA and the tax code as she helps clients with complex benefit plan issues. She works closely with other employee benefits experts in-house along with the client's accountant, financial advisors and third-party administrators to provide the best possible solutions for her clients.
Education
University of Nebraska, J. D., 1980
University of Nebraska – Lincoln, B.A., 1975
Expertise
Joan's employee benefits practice includes representation of employers and fiduciaries in both the private and public sectors in the design, implementation, maintenance and compliance of qualified retirement plans, executive compensation, non-qualified deferred compensation arrangements, stock plans and health and welfare plans. Joan provides both technical advice and practical administrative counsel for sponsoring employers, plan administrators and service providers.
We have not uploaded any case studies yet. Please check back soon.
We have not uploaded any articles yet. Please check back soon.
There are currently no ratings.
Views this week: 13
Views this year: 48
Views: 4,735