Advisors > Company Directors, Governance > Internal Trustee Advisory Services
Howard Kaplan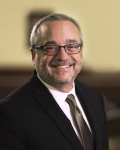 Name: Howard Kaplan
Company: Kaplan Fiduciary
Title: Founder
Email: hkaplan@kaplanfiduciary.com

p: 404-308-0330
f:
265 Peachtree Street NE
Atlanta, GA 30303
View on a map


Message this advisor
Send this advisor a private message (esopmarketplace.com email).

Add this advisor
Add this advisor to your Process Map
We currently have no blog posts for Howard Kaplan.
Howard Kaplan leads Kaplan Fiduciary Group, a firm focused on improving fiduciary performance by boards and management of ESOP companies and ESOP fiduciaries. He has more than 25 years in the ERISA fiduciary and trust banking industry, where over the years he developed industry leading expertise in fiduciary services for employee stock ownership and qualified retirement plans. Before Kaplan Fiduciary Group, Kaplan served over 20 years at several leading ESOP trust companies and today, he frequently speaks on trustee and fiduciary subjects at the industry associations meetings.
Education
Accredited Investment Fiduciary Auditor™ designation from the Center for Fiduciary Studies, University of Pittsburgh
Senior Leadership and Strategic Impact Program at the Amos Tuck School of Business at Dartmouth College
CRSPTM Designation after completing Employee Benefits Plan Courses, Cannon Trust School
B. S. Business Administration/Finance and Marketing, University of Florida, Gainesville, FL
Expertise
Memberships and Affiliations
The ESOP Association (TEA): Interdisciplinary Committee on Fiduciary Issues, Legislative and Regulatory Committee, Ownership Culture Committee and the Valuation and Appraisal Committee

Employee-Owned S Corporations of America* (ESCA)
The National Center for Employee Ownership* (NCEO)
American Society of Pension Professionals & Actuaries (ASPPA)
American Bankers Association (ABA)

Foundation for Fiduciary Studies (now FI360)

Society of Professional Asset-Managers & Record Keepers (SPARK)

Society of Certified Retirement Plan Specialists (CRPS)