Advisors > ESOP Accounting & ESOP Accountants
Herbert Kalman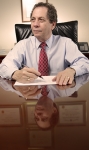 Name: Herbert Kalman
Company: Marcum LLP
Title: Managing Director of Tax & Shareholder
Email: herbert.kalman@marcumllp.com

p: 832-201-1033
f: 713-482-0099
6002 Rogerdale Road
Suite 300
Houston, TX 77072
View on a map


Message this advisor
Send this advisor a private message (esopmarketplace.com email).

Add this advisor
Add this advisor to your Process Map
Looking forward to retirement, but not sure what to do with the business?
As much as you love your businesses, you must admit that retirement is an attractive idea. You dream of relaxed mornings sipping coffee by a roaring fire or leisurely reading the newspaper on a sunny ...
Read the blog post >
Myths about ESOPS
Business succession planning is a hot topic amongst enterprise owners today. You spent a lifetime building a company and took great care to make it the success that it is. You want to take the same am...
Read the blog post >
EBOOK - ESOPs: Myths, Methods, and Mistakes
How it works The ins and outs of ESOPs Common misconceptions explained Tips and tricks Risks vs. rewards How to avoid common mistakes As baby boomers toe the retirement line, company o...
Read the blog post >
Herb Kalman started his career in accounting in 1969, primarily working in the public company sector. Herb's decades of experience includes serving as an audit partner for two of the top accounting firms – Deloitte and Grant Thornton. Herb founded the accounting firm Kaufman/Kalman P.C., which was acquired by Grant Thornton in 1989. Herb's management career includes serving as CFO of American BioMed, Inc., a healthcare company, and CFO of Cold Tap, Inc., a manufacturer of specialty refrigeration equipment. He later operated his own CPA firm from 2001 to 2007, before co-founding Prather Kalman, P.C which later merged with GBH and now Marcum LLP.
Education
Active in his profession, Herb regularly hosts seminars for the Texas Society of Certified Public Accountants (Houston Chapter) and is a former adjunct faculty member at the Center for Professional Education in Broomall, PA. Herb is a University of Houston alumnus.
Expertise
Herbert L. Kalman, CPA is a shareholder and the managing director of tax of Marcum LLP, PC. Herb, as he is referred to by his peers, is an accounting veteran with over 40 years of experience. He specializes in audit and tax clients, business valuations, litigation support and client profitability consultations.

Ownership Transition of Large Distribution Company
The Problem In 1975, our client acquired one of the largest distribution companies in their industry. He had been the sole owner of this Housto... Read the full case study >
We have not uploaded any articles yet. Please check back soon.
There are currently no ratings.
Views this week: 4
Views this year: 372
Views: 888