Advisors > Lawyers > ESOP Lawyers
Elizabeth Perdue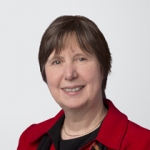 Name:
Elizabeth Perdue
Company:
Holland & Knight LLP
Title:
Partner
Email:
Elizabeth.perdue@hklaw.com
p:
312-715-5851
f:
312-578-6666
131 Dearborn St
30th Floor
Chicago, IL 60603
View on a map


Message this advisor
Send this advisor a private message (esopmarketplace.com email).

Add this advisor
Add this advisor to your Process Map
We currently have no blog posts for Elizabeth Perdue.
Ms. Perdue, who focuses her practice on employee stock ownership plan (ESOP) finance and corporate mergers and acquisitions, comes to Holland & Knight from Morgan Lewis & Bockius, where she was a member of the ESOP practice group in Chicago. Joining the firm with her as senior counsel is Louis Joseph, a former associate solicitor for plan benefit security in the U.S. Department of Labor (DOL), the agency's most senior ERISA counsel.

"Betsy is a nationally recognized leader in the ESOP community, and she and Lou will add prestige and depth to our already robust ESOP practice," said James McDermott, the head of Holland & Knight's Business Section. "They are a strong addition to our Chicago team, bringing with them an excellent reputation and client roster."
Education
University of Chicago Law School, 1982, J.D.
Pomona College, 1976, B.A.
Expertise
Ms. Perdue represents privately held companies in acquisitions and disposition transactions, including mergers, asset and stock acquisitions and dispositions, asset exchanges, spin-offs, roll-ups and leveraged buyouts, and employee stock ownership plan (ESOP) transactions. She also has extensive experience structuring and documenting strategic alliances such as joint ventures, corporate partnerships, and licensing and distribution arrangements, including those involving groups of competitors. She represents both borrowers and lenders in traditional and creative financing transactions, including corporate credit facilities, ESOP loan transactions, venture capital and startup financings, and asset-based and structured financing vehicles. Her experience spans a broad spectrum of industries, including manufacturing, distribution, service businesses, software, emerging technologies, and media.
We have not uploaded any case studies yet. Please check back soon.
We have not uploaded any articles yet. Please check back soon.
There are currently no ratings.
Views this week: 18
Views this year: 309
Views: 4,683