Advisors > Lawyers > ESOP Lawyers
Elizabeth Perdue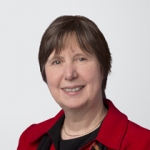 Name:
Elizabeth Perdue
Company:
Holland & Knight LLP
Title:
Partner
Email:
Elizabeth.perdue@hklaw.com
p:
312-715-5851
f:
312-578-6666
131 Dearborn St
30th Floor
Chicago, IL 60603
View on a map


Message this advisor
Send this advisor a private message (esopmarketplace.com email).

Add this advisor
Add this advisor to your Process Map
We currently have no blog posts for Elizabeth Perdue.
Elizabeth "Betsy" Perdue is a partner in Holland & Knight's Chicago office. She focuses her practice on mergers, acquisitions and financing transactions, with a special concentration on transactions involving employee stock ownership plans (ESOPs). She is co-chair of the firm's ESOP Group.
Education
The University of Chicago Law School, J.D.
Pomona College, B.A., cum laude
Expertise
Ms. Perdue represents privately held companies, ESOP trustees, institutional lenders, private equity and mezzanine lenders in structuring, implementing and financing transactions involving ESOPs. Her counsel includes 100% and partial sales of businesses to ESOPs, second stage transactions, releveraging transactions, private placements, and sales of ESOP companies, as well as assisting ESOP companies with corporate, transactional and compliance matters. She represents many financial institutions in connection with financing for ESOP companies and ESOP transactions.
In addition, Ms. Perdue advises privately held companies in a range of acquisitions and dispositions, including mergers, asset and stock acquisitions and dispositions, and leveraged buyouts. She provides ongoing counseling in connection with the full range of general corporate matters for privately held companies, including corporate governance, compliance, contracts, employment agreements, private placements and other capital raises.
We have not uploaded any case studies yet. Please check back soon.
We have not uploaded any articles yet. Please check back soon.
There are currently no ratings.
Views this week: 10
Views this year: 776
Views: 5,150