Advisors > ESOP Financing > Investment Bankers
Danielle Montesano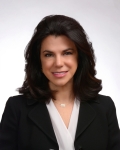 Name: Danielle Montesano
Company: Duff & Phelps
Title: Managing Director
Email: danielle.montesano@duffandphelps.com

p: 312-697-4743
f:

Message this advisor
Send this advisor a private message (esopmarketplace.com email).

Add this advisor
Add this advisor to your Process Map
We currently have no blog posts for Danielle Montesano.
Danielle Montesano joined Duff & Phelps in 2018. She is a managing director in the Corporate Finance and ESOP/ERISA Advisory Services practice. Danielle has more than 20 years of experience working with corporate acquisition and sale transactions involving restructuring, valuing and financing public and private securities. She has deep ERISA, corporate structuring, tax, legal, regulatory and finance experience, with functional concentrations in employer securities, ESOPs, board governance and executive compensation.
Education
Danielle holds a J.D. from Loyola University Chicago School of Law and a B.S. in Biology from Saint Mary's College. She currently Chairs the Legislative and Regulatory Committee of The ESOP Association and is a member of the Advisory Board of Employee Owned S‐Corporations of America. She is a frequent speaker and is nationally recognized for her expertise.
Expertise
Danielle Montesano began her career practicing benefit and tax law and developed an expertise in ERISA fiduciary matters associated with structuring, implementing and governing Employee Stock Ownership Plans across a variety of industry verticals.
We have not uploaded any case studies yet. Please check back soon.
We have not uploaded any articles yet. Please check back soon.
There are currently no ratings.
Views this year: 148
Views: 148